National Center for Documentation and Research Proposal
2009
In 2009 I was invited to visit UAE in order to develop a design proposition for an innovative methodology for an exhibit planed by the National Center for Documentation and Research (NCDR). After visiting the exhibit space, and conversing with the various individuals involved, I conceived of the subsequent approach and treatment.
Convert NCDR into a "time machine" embarking visitors on a voyage of discovery of their origin and evolution through ages.
Inspire imagination, pride in own heritage, curiosity and interest in further knowledge.
Transform NCDR from usual passive exhibit into immersive and interactive, experience.
Position NCDR's as educator cultivating future generation appreciative of its origin, rich history, unique character, heritage, perseverance and achievements, all shaping a national identity and pride. In doing so NCDR will initiate a long term relationship with the youth who will grow into parents of children whom they will bring to NCDR to experience the impact this institution has had on themselves.
Position NCDR as the unique cultural heritage hub of all of the UAE federation's members.
The greater the contrast between the past and the present the more powerful the impact and impression of the achieved current success, the greater appetite for playing an active role in contributing to shaping the envisioned future.
Proposed design could set new standard for what a museum needs to become to attract audiences that are becoming sophisticated, edutainment and entertainment savvy, less willing to sit, read, and watch linear documentary, static images or passive factual data.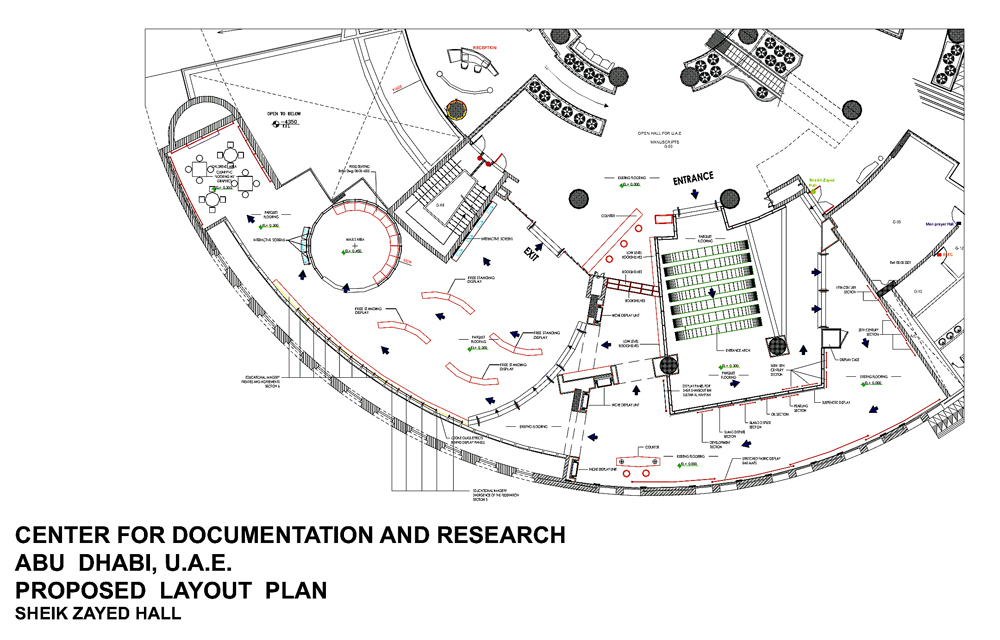 Means for Achieving Above Goals
Design it as a journey through a progressively evolving, organically flowing visual story that begins with an amazingly imaginative creation mythology from which to progress to ancient times, advancing into recent historic periods and seemingly culminating in the present, but yet unexpectedly unveiling an inspiring vision for the federation's future.
Device a flowing physical space that takes visitors away from the daily reality outside, and injects them into one feeling immersive and embracive and flows organically through time.
Via use of live action film, theatrical reenactments, animated interpretation or other forms of time based visual storytelling, interactivity and other technologies, without impeding their authenticity, make the events more immersive, amazing, impacting while bringing passive archival records, still photos, maps and artifacts to life, framed within own time.
Create immersive time tunnel depicting scenes, events projecting ambiance of the past.
Turn walls, ceiling, even floors into projection screens immersing visitors. By adding levels of additional, transparent, screens, with more imagery, layer the images to enhance sense of depth, perspective and immersive feel resulting in a feeling of "being there".
Fitting use of technologies, some to be explained, can bring objects, stills or stories to life, making them more magical imaginative, meaningful, interactive, tangible and entertaining.
For optimum impact, by use of 4D haptic technologies, this immersive experience would make visitors feel, smell, hear, see and reach out towards all that is happening all around them, inspiring imagination, impacting emotions and making the experience unforgettable.
Imagine visitors smelling the humidity, seeing and feeling through own body the power of huge sea waves crushing against the surrounding Venetians ships advancing on their colonization.
Or finding themselves midst a battlefield overrun by the advancing Portuguese armies, smelling the rising clouds of dust and feeling the ground tremble under hooves of the charging armies.
Or being encircled by the wildly blazing flames devouring Khor Fakkan?
This proposed approach will transform all information, documentation, artifacts, scientific data currently intended as separate exhibits of weapons, documents and treaties, emergence of the federation into a voyage through Transformations, all woven into a rich progressive visual story depicting region's origin and evolution culminating on the Sheikh's vision for the UAE's future.
Through an eventual merging of the various Emirates histories reveal the origin of the UAE, and then illustrate how multicultural and hospitable to visitors of all nations the new federation is.
Having journeyed through immersive historic periods and events, visitors will reach the recent time. With own eyes they will now witness its accelerate transformations into an impressive today. Here they would be greeted by an appearance of their current leader, or his spokesman.
This magical likeness could be created simply as a grander than life projection which magically transforms into a 3D holography, or mystical projection onto floating particles, water or smoke. He can be capable of an interactive chat, capable of eye contact with speaking visitors.
To culminate visitors' experience, this figure would unveil a vision for the future of the country. His spoken depictions would materialize around the visitors, transforming the present into an immersive, futuristic and inspiring vision for the future. Such would address the NCDR motto: "preserving the past and present, for the future generations of the nation."
© Copyright 1975-2022 &nbsp Edward Bakst &nbsp All Rights Reserved