Introduction
Born with vibrant imagination, growing, we often lose desire to dream, risk or explore potentials outside the norm. Thus our imagination falls into hibernation. Imagination workshops re-awake and reignite creativity and joy of imagining. Discussions, brainstorming and assignments spark reflection seeding self-discovery fueling ideation and hunger for creative self-expression. "Gravity Free & Reality Independent" ideation empowers imagination to roam free, unbound by time or space, unveiling new perspectives and points of view.
Folio of Imagination Workshops ART
I have conducted my workshops for participants of diverse cultures, ages, educational and professional backgrounds. The Folio contains simple matchstick sketches and refined artistic images. Whether participants had artistic talents or none at all, their outcomes can be as powerful and expressive.
"UHE, Women's University in Lahore, Pakistan"
Artwork produced in a series of Imagination Workshops
"Self-Portrait from Within"
Who are you deep inside and what makes you uniquely YOU?
"Visions of Hell & Heaven"
Based on your inmost hopes or fears, imagine what has never been seen.
"Our World After the Next World War"
What would be left and how would our reality be altered forever?
"World of Your Creation"
Envision a uniquely own, gravity free & reality independent world or life forms.
Workshop Photos
I have conducted Workshops and Presentations in: Germany, Malaysia, Singapore, Poland, Korea, Costa Rica, Venezuela, Hong Kong, Japan, Israel, Netherlands, Turkey, Sweden, Cuba, USA, UAE, China and Pakistan.
As Fulbright Specialist, I am looking forward to more such empowering and enriching opportunities.
Recent Imagination Workshops
Building upon the exciting experience of UAE interdisciplinary workshops, sponsored and organized by the Abu Dhabi Media Authority, I applied to the Fulbright Specialist Program and was awarded funding for further creative and academic activities.
Thus, the most recent imagination workshops were sponsored by the Fulbright Award. A months long series of sessions was held over the course of March and April 2023 at the University of Home Economics (UHE), an all-women's university in Lahore, Pakistan. These activities culminated with an exhibition of art and imaginative concept designs created by the various participating interdisciplinary students, faculty, administrators, and employees. As evidenced by the final exhibition and the letters of appreciation, their impact was inspiring, thought-provoking, and mind- and eye- enlightening, empowering self-expression and horizon-expanding. This exhibition was unveiled to the public and attended by the U.S. Embassy representatives.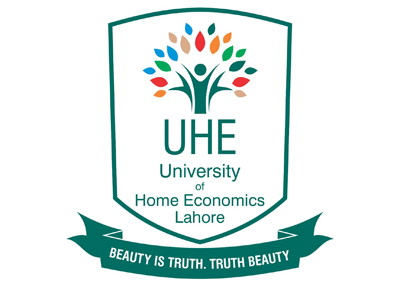 UHE in Lahore, Pakistan
Letters of Appreciation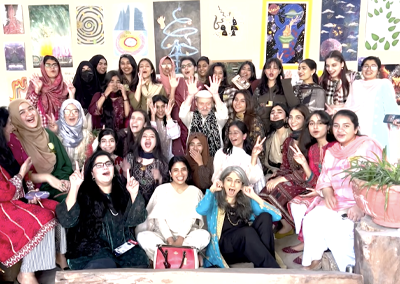 UHE in Lahore, Pakistan
Montage of Visit Created by UHE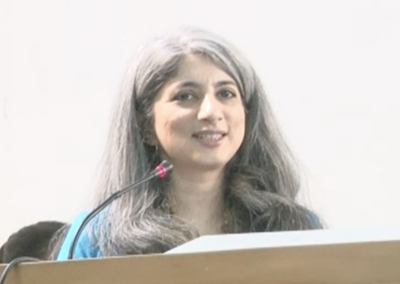 UHE in Lahore, Pakistan
Farewell Speech at UHE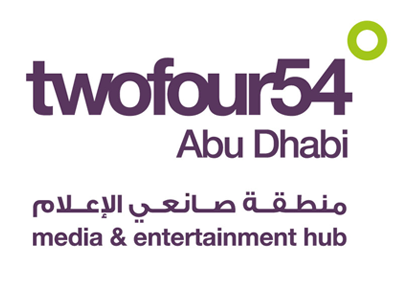 Abu Dhabi Media Authority
Letter of Appreciation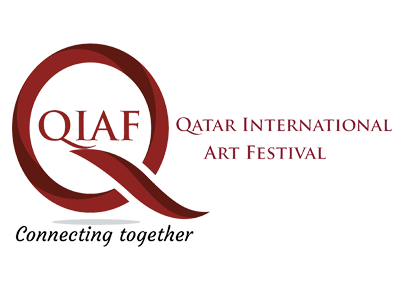 Qatar Intl Arts Festival 2022
Master Class Award